The Mud
There will be Mud!
The 5k course (or 3K if you skip the longer running part) follows a path through Zombie infested tree lined roads, around blueberry fields, over and through water crossings plus ups and downs, ins and outs, some difficult, some very difficult.  Each runner will start with three flags.  The object of the race is to finish the course with at least one flag remaining.  Zombies on the trail will attempt to "infect" you by stealing your flags. If they get all 3, you've been bit!  If you don't want Zombies grabbing for your flags, don't wear them and trick the Zombies into thinking you're already dead!

 Obstacles can be "skipped" if you're willing to live with the shame.  If you loose any flags and want to extend your life (a flag), you can stop at a medic station and be prescribed a short exercise or task (song, dance) in order to save your human life.  If you cross the finish line without a flag, your skin will soon begin to rot...but you will still get a medal!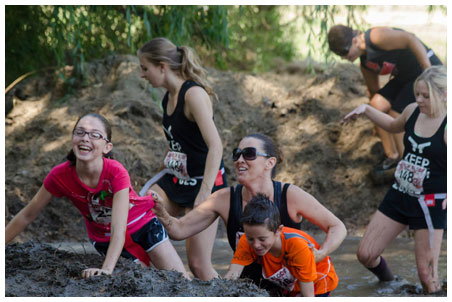 Kids 11 and under need to run in the 10:00 am wave ONLY and Kids 5 – 8 years old must run with an adult that stays with them that is 18 or older. Younger Kids may be required to skip a couple of the obstacles. Waivers will need to be signed by a parent or guardian at packet pick-up for anyone 17 and under (17 and unders need not be present). All kids age 5-11 in the 10:00 am wave register for $25 until race day which is then $35. Adults who are running with a child will register as an adult for $45 through May 1st, then $55 through May 15th, then $65 through May 19th and $75 on race day. Adults running with kids who are also running in a regular wave will only need to register once for the 10:00 am wave and can still run in another wave of their choice - just join the wave you want.
The Obstacles are under construction and some pix will go up on the Facebook page before the Run, but not too many...it's a surprise!
Flags may NOT be tucked into pants, rolled on the belt, pinned or IN ANY WAY prevented from being able to be pulled off by a Zombie. Failure to follow ANY rule will result in being removed from the course and tied to a post while Zombies eat your flesh!
Zombies may NOT push or tackle or trip or IN ANY WAY stop the runners from running past. You grab their flags ONLY. Failure to follow ANY rule will result in being removed from the course and tied to a post while humans smash your head with a bat!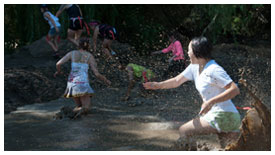 Waves of runners will be released every half hour beginning at 8:30 am till 12:00 am. Plan to be at the starting line 15 minutes before your start time. Rules and info will be shouted at you then.

Prizes will be awarded for the Craziest Running Wear and Best Dressed Team so knock yourselves out!
No one is being timed in this event and everyone who finishes gets a medal, so "Everyone is a Winner!" (gag me).