The Blood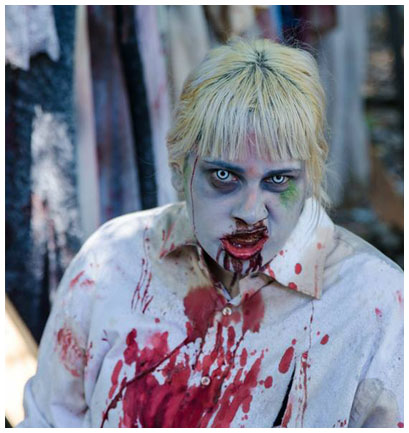 There will be Blood!

Wanna be a Zombie?  Register for a 2 hour shift (or stay as long as you'd like). Zombies must be 8 or older. Your mission is simple: Infect the runners by stealing their flags as they run past you. You are hungry, stumbling zombies - NOT running, aggressive attack zombies! We'll put you in a designated area on the course with tips and rules. There will also be Hobb Zombies in each area to monitor over zealous Zombies.

You need to arrive at the Zombie Creation Station at least an hour before your start time to get Zombied up (wounds, blood, rot). We have Make-up Artists to get the horrid job done for you or feel free to come already Zombified! Your clothing should look horrendous! Bring your own or work with what we have (we have A LOT but bring what you can). Make sure your footwear is adequate. Remember, zombies can either rise from the grave (in which case you'd have been rotting in your funeral attire for years) or be infected by a bite while walking down the street. You can be a zombie celebrity, themed zombie or just be you...go crazy! As long as you look dead.

There are 2 Zombie registration options: a Zombie who also does the Run separately  AND a Zombie Only.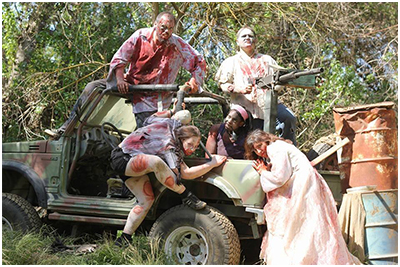 A Zombie who also does the Run, in addition to the race benefits (t-shirt, medal, party, one free beer, haunt ticket), gets a Mud 'n Blood Zombie Run water bottle (to keep) to stay hydrated while infecting runners. Zombies who also do the run should register for the Zombie time slot they want knowing that they will put on their number bib and Run either before or after their Zombie time. They may Run in the wave that is most convenient for them, no need to bother us with which one that is. Just make sure you check in at Zombie Creation 1 hour before for your Zombie time.

A Zombie Only, will receive the Mud 'n Blood Zombie Run water bottle and a ticket to return in October for any one of the Hobb's Grove Haunted Attractions, but won't be able to run the course or get the other stuff. If you want the other stuff, you can register as a Zombie who also Runs but you don't HAVE to run. Adult Zombie Onlys register for $35 and Kid Zombie Onlys for $20.  Zombies may be needed on the course pulling flags or entertaining folks in the Party area. Sign up for any available shift. If you'd like to go longer than that, cool! Zombies will be needed.