Run For Their Lives
The Mud 'n Blood Zombie Run is in memory of Ian Reynolds and Sophia Andrade and dedicated to all children and their families who fight cancer.  All funds available after expenses are donated to St. Jude's Children's Cancer Research Hospital.  Beginning in 2013, the participants of MBZR have raised over $30,000 for St Jude's.  With thanks to all who participate, we hope that number goes up to $40,000 in 2017.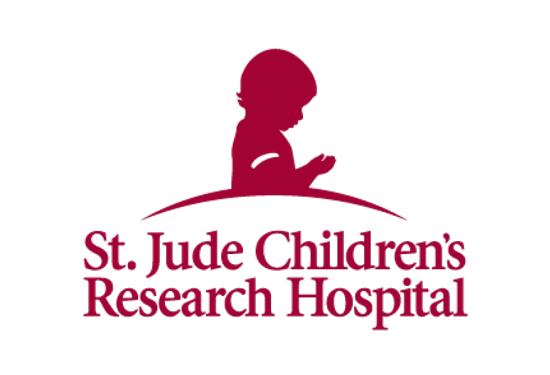 Ian Reynolds lost his fight with childhood cancer February 19th, 2013 at 8 years old. He lived in Kerman and his Grandma and Aunts have been part of the Hobb's Grove boo crew for many years.

Ian was as strong, courageous and as filled with grace as a child could be. He always said "No cry-babies aloud." and, "Be strong mom. We got this." He didn't want to see his family sad. They miss him and his sweet smile every day and feel he is their guardian angel in every way.
---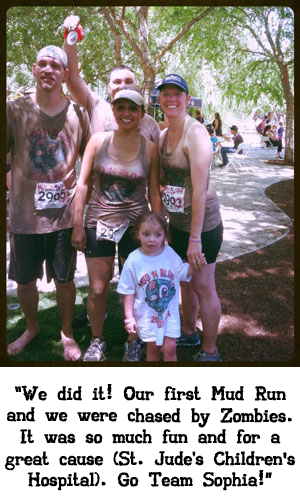 Sophia Andrade was at the Mud 'n Blood Zombie Run in 2013 with "Team Sophia" after having gone through a year and a half of fighting cancer – neuroblastoma – and being declared in remission. Sadly, unbeknownst to her Team at the time, Sophia may already have had the cancer beginning to grow back when this photo was taken. They prayed that Sophia would get to be in the Zombie Mud Run again and again.
Sophia lost her battle January 12th, 2014 at 4 years old.

Following is a beautiful 12-minute documentary on Sophie's 1st journey with neuroblastoma. The video won an award and finishes with the happy ending when she was declared healthy and under remission. The video and the last few statements are so bittersweet knowing she didn't survive. 
Video Created by Laura Goutcher
This is a short video filmed and showcased for the Dodgers ThinkCure campaign: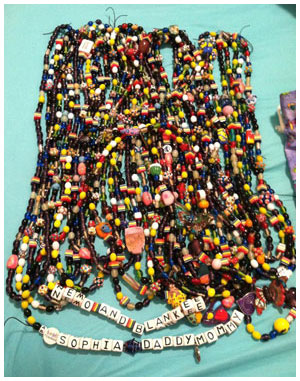 Sophia's Beads of Courage.
It's amazing what she had to go through just to survive. Each bead represents a procedure. She received a bead for each poke, scan, chemo, or hospital stay. Her mother loves having her beads to help tell her story.
This year, Sophia's parents will be joining us all for the run and they'll be trying to grow "Team Sophia".
With the help of all the awesome runners, zombies and volunteers, the Mud 'n Blood Zombie Run will continue to do what it can to help fight this dreaded disease.