The Details
What to Bring:
Your Photo I.D. for signing waiver – Runners, Zombies and Volunteers.
$10 Cash per car for parking, all going to benefit St. Jude Children's Hospital.
Free admission
Spending $$$ if you want to buy food, drinks or stuff. There's an ATM on site.
What NOT to bring:
No pets.
No outside food or alcoholic beverages.
No weapons of any kind allowed.
No glass containers, for everyone's safety.
Event Packet Pick-Up & Sign In
To all who are registered to Run or be a Zombie who also 

Runs, Packet pick-up will be at the Visalia Sole 2 Soul Store Friday,

 May 19th, from 5 pm till 8 pm - and at the Fresno RIVER PARK Sole 2 Soul Store, Saturday, May 20th, from 4 pm till 8 pm. http://www.sole2soulsports.com/ Packets can also be picked up the day of the run at The Grove.
Please try to pick up your Run Packets (T-shirts included) on one of these days in order to make run day easier for everyone, especially yourself. Waivers will be at packet pick-up for every runner to sign with your ID. You may NOT pick up a packet for someone else unless they are the minor you are responsible for.

What you need to claim your packet..
Photo I.D.
A participant Waiver signed in our presence with your I.D.
If you are age 5 -17, you need a parent or legal guardian to sign your waiver for you with their ID. It is not necessary for those 17 and under to be at packet pick-up. Age 5 – 9 must have an adult with them during the run.
NO ONE 18 or older may pick up a packet for anyone else! The adult runner must pick up their own packet with their own I.D.
When to arrive on event day?
At least one hour before your wave time, but even earlier is better. Gates and coffee will be open at 7:00 am (maybe even 6:30).
Bibs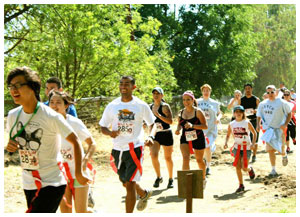 This is your unique identification number to the event staff, photographers, spectators, etc. Make sure your bib is attached to the front of your shirt using the safety pins provided.
Parking Info
There will be a $10 per car parking fee. Parking spaces are limited so carpool and save a few bucks! There's lots of Parking at Sanger Walmart, Jensen & Bethel or Southgate Shopping Center, Academy & North. Parking money will go to St. Jude's.
Parking is on grass near the sign-in and Midway/Party area...not a long trek.
Motorcycles park free.
Gear Check
Our gear check is available for participants to leave what they don't want to hold onto while participating. It will be supervised at all times but we are not responsible for lost or stolen items.
Safety
Medical personnel will be present during event times. Medical personnel, at their discretion, may remove any participant from the event if/when necessary.
Event promoter reserves the right to cancel or delay the events due to severe weather or in the event of a disaster.
Shoes are mandatory – lace 'em up!
Obstacles are to be traversed at your own risk. There is a way to skip every obstacle.
The deepest water obstacle is about 3' deep. The ability to swim is not a requirement.
More Information
The Golden Rule works well here at The Grove! Treat EVERYONE as you would like to be treated... or as you'd like your Mom to be treated... or your child. You get it!
Participants understand and acknowledge that The Mud 'n Blood Zombie Run is a dangerous event and accept ALL risks associated with the event.
Only you know your physical capabilities. It is your responsibility to determine your ability to complete obstacles. Shoes are mandatory!
All Participants must be a minimum age of at least 12 the day of the event to participate in the Adult Division.  Kids 5 -11 can only run in the 10:00 am Wave.  Kids may not be allowed to do all the obstacles.  Kids 5-8 may only run with an adult that stays with them that is 18 or older and who has registered for the run as well.  If they already registered for an Adult Wave, they do not need to re-register for the Kids Wave and can use the same bib number. Ages 4 and under may not run. Ages 7 and under may not be Zombies...sorry!
Event photographers will be in various locations throughout the course. All participants agree to allow the event producers to use any pictures or video footage of the event for marketing purposes.
Participants must wear the provided Mud 'n Blood Zombie Run bib number clearly shown on their front chest area.
Restrooms (clean port-a-pots), showers (of some type) and dressing areas are provided. There will be a bag check if you'd like and your bag check number is attached to your bib.
Bad attitudes are strictly prohibited... this is a Fun Run! A good time is here to be had by all.